PRODUCTS


Every day, I receive a wide variety of technical consultations from various industries. Materials that we have never used before, construction methods that we have never experienced, and microfabrication. Electronics is constantly evolving with the changing times. We will continue to change and take on challenges in any era.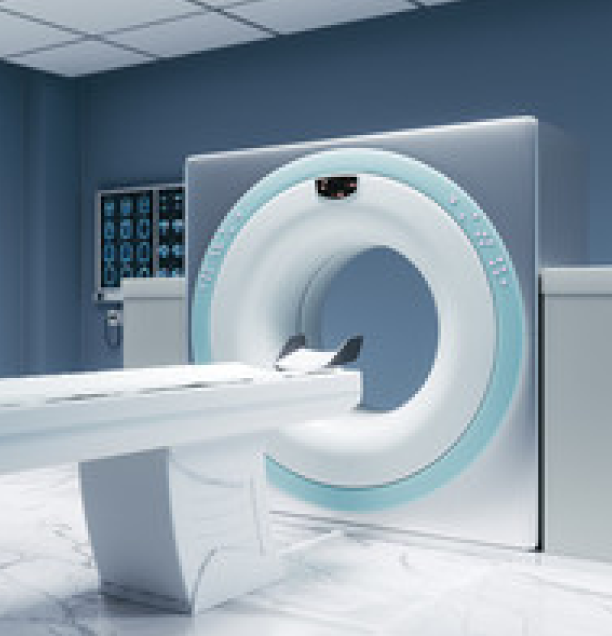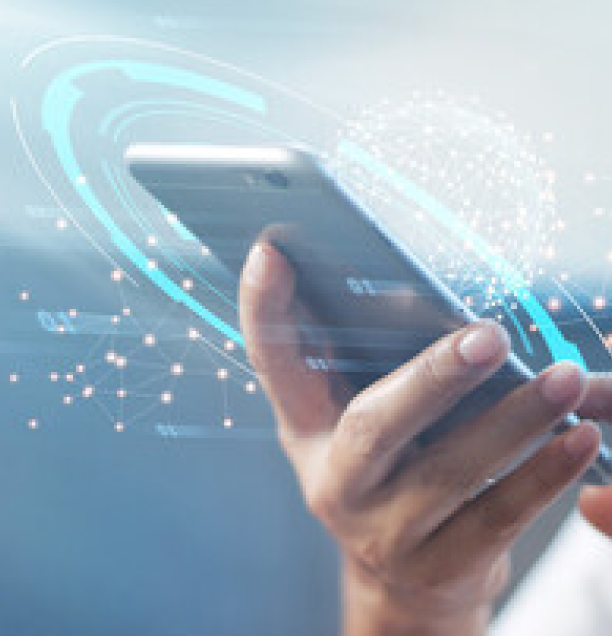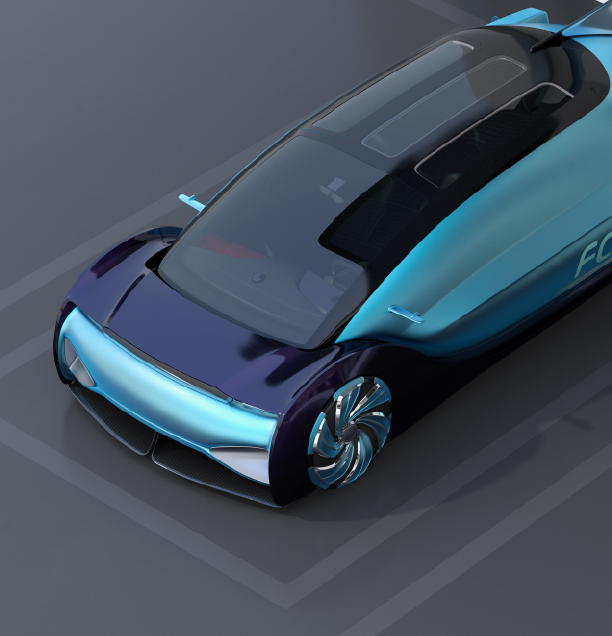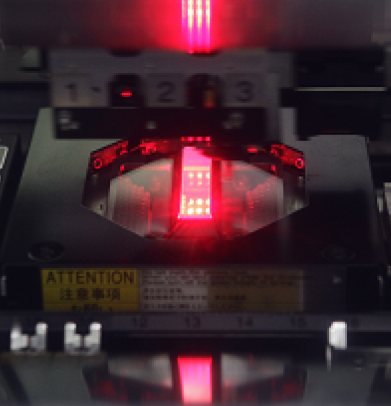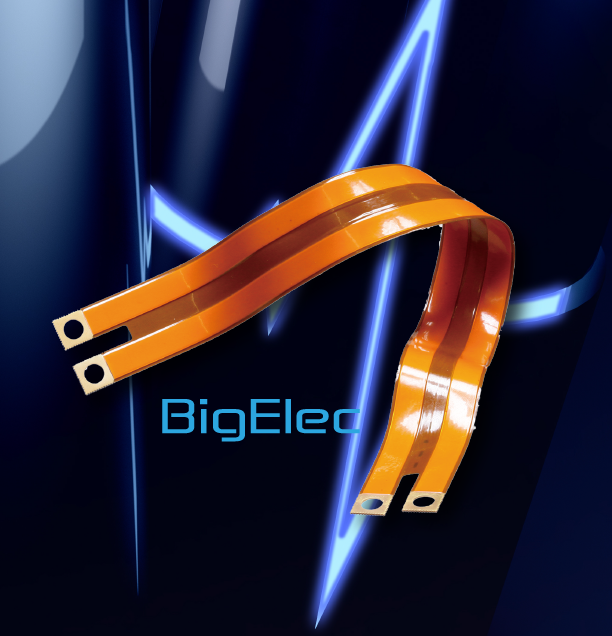 ※All product images are samples created by us for publication. Using these technologies, we can create a shape that meets the customer's needs.
Ultrafine Circuit High Frequency FPC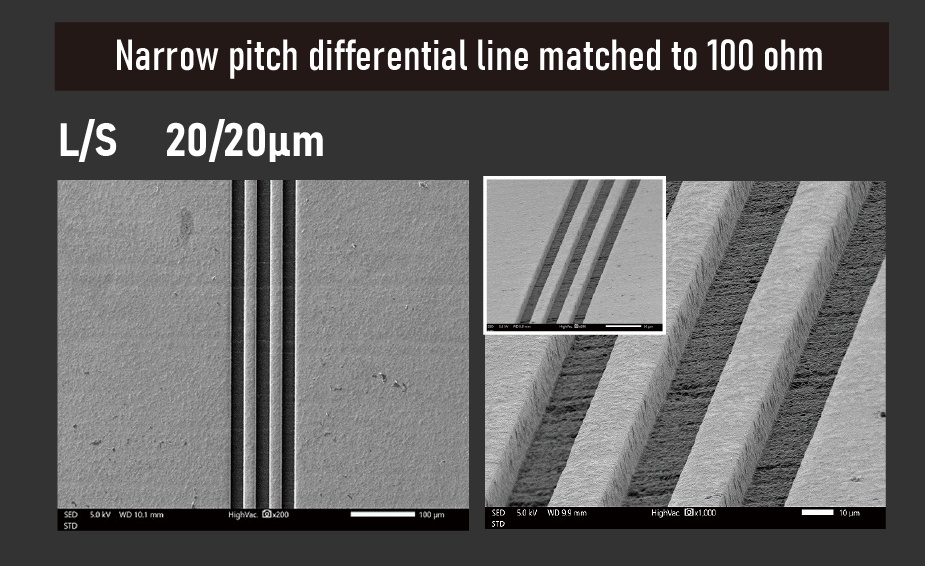 Catalog
Achieves high density and high accurate frequency by semi-additive process (SAP) using liquid crystal polymer (LCP) as a core material.
High-density・Flexible Button Plating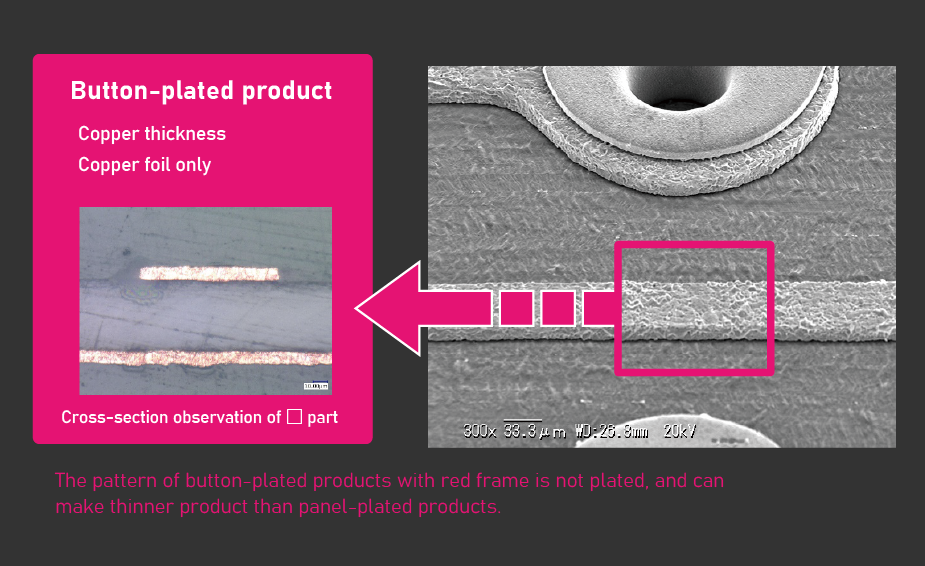 Catalog
Only through-hole is plated, providing pattern wiring that makes use of original thickness and characteristics of copper foil.
High-precision impedance control is possible,Ideal for high-speed transmission application!
For the medical device industry, where demanded is increasing due to aging society, we provide thin, light, and high-density wiring FPCs, and contribute to improving the performance of medical image diagnostic devices.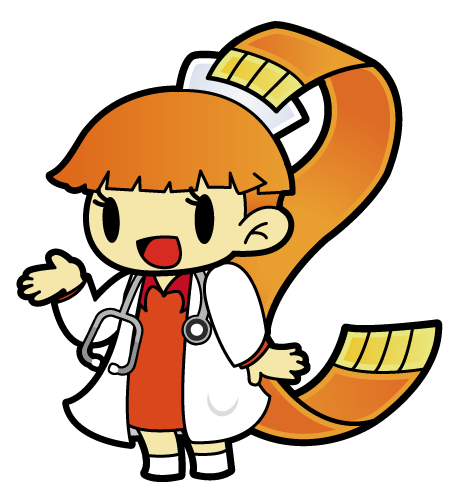 High Density Multilayer FPC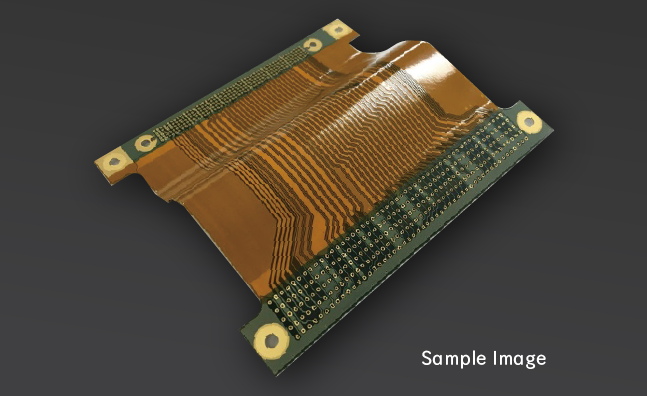 Catalog
It is developed for devices that require many signals. With a board thickness of 1mm or less and a high-multilayer structure of 12 layers, the cable part can be folded for use, enabling high density wiring in a small space.
Ultra-small Diameter Through-hole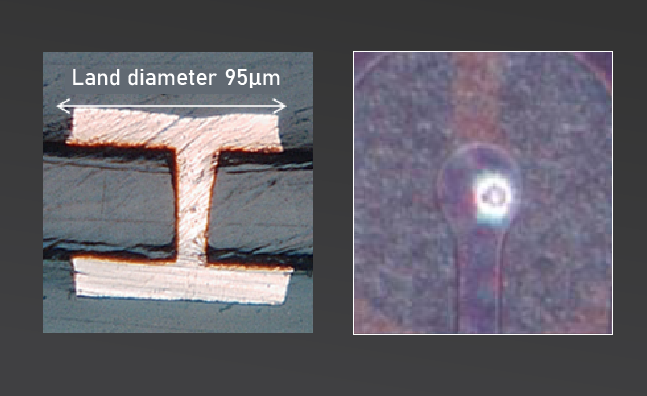 Catalog
A minimum via ofφ20 µm can be formed on a double-sided FPC by laser processing. Minimum hole diameter ofφ20 µm, minimum land diameter of 95 µm is possible.
※ Holes are to be filled with through-hole plating.
The pitch can be narrowed by providing through-holes in patterns, leading to product downsizing.
4-layer FPC filled with Blind Via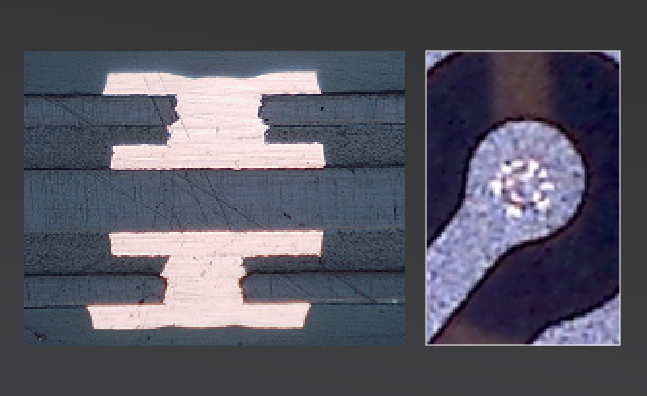 Catalog
A multilayer FPC that can provide high-density wiring, as well as reduce size, weight, and thickness. Pads for component mounting can be provided on vias by filling blind vias with plating. This certainly has flexibility that rigid boards do not have.
Slit FPC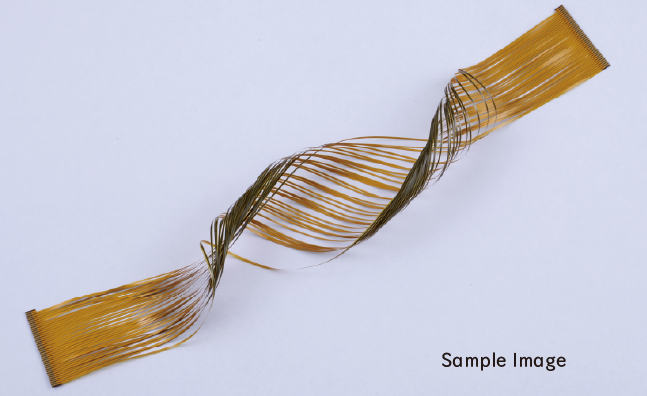 Catalog
It is widely used as alternatives for thin coaxial cables, wire harnesses, medical device cables, etc. by making a slit in the flexible FPC to enable twisting. Since the slit spacing and width can be specified, the degree of freedom of use by customers is increased.
Long FPC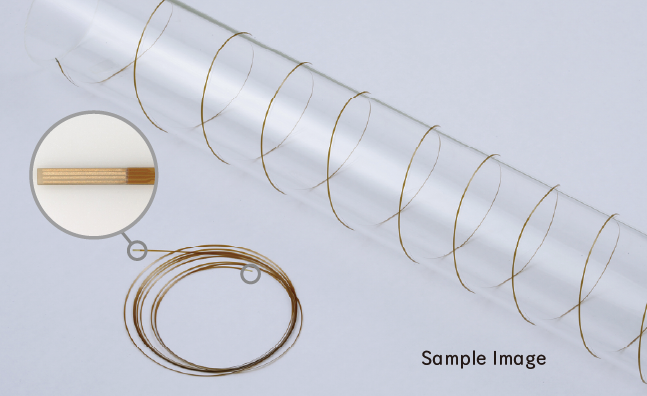 Catalog
We have developed a superfine cable FPC that is as long as 1 meter. It enables Long-distance wiring with a superfine cable of 1mm or less. Although it is mainly intended for use in medical devices, the width and length can be freely decided, and it is expected to be used in various areas.
Information systems that make full use of IoT, and 5th generation mobile communication systems (5G) that are indispensable to expand autonomous driving technology. In this evolving optical communication industry, we are making a contribution worldwide focusing on high speed transmission FPCs that incorporate into optical modules, the core of communication infrastructure.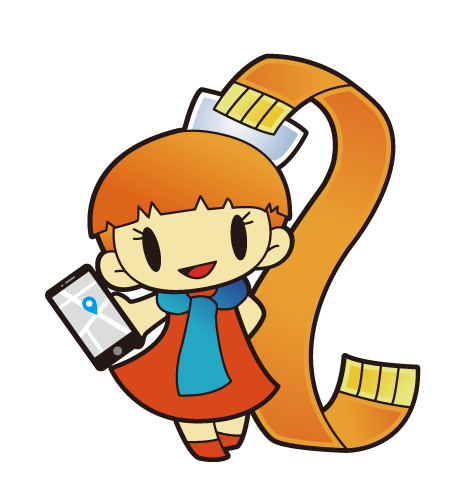 Low-loss FPC (GHz band・Microstripline)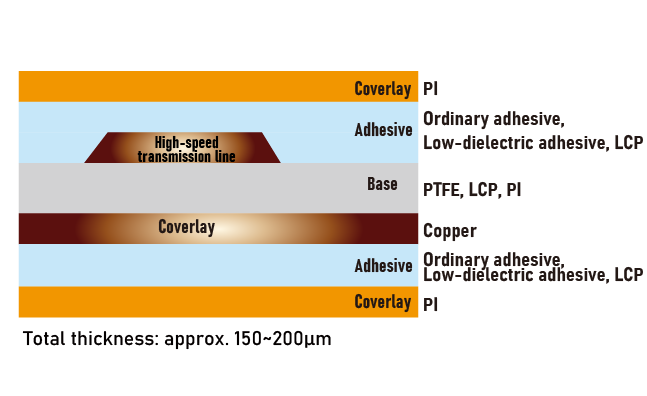 Catalog
We offer three kinds of FPCs that can significantly improve transmission loss compared to products that combine polyimide based and coverlay. Both PTFE-based FPCs with low dielectric coverlays and with soft resists are expected to improve transmission loss by 60-70% compared to conventional ones. FPC, which is a combination of an easy-to-handle LCP base and low dielectric coverlays, can also be expected to improve transmission loss by about 50%.
FPC for high-speed transmission connector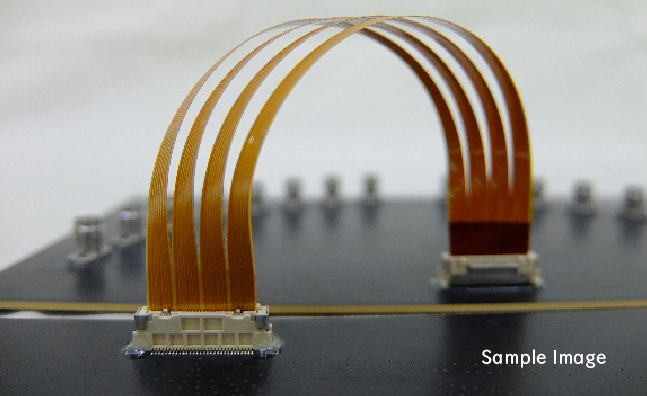 Catalog
High-speed transmission connectors (IMSA-11600S-30Y900 and IMSA-11501S-30Y900) made by Iriso Electronics Co., Ltd. are integrated with the RFM of our YFC series (LVDS type microstripline) to achieve high-speed transmission up to 15 GHz.
Low spring-back・High-speed transmission FPC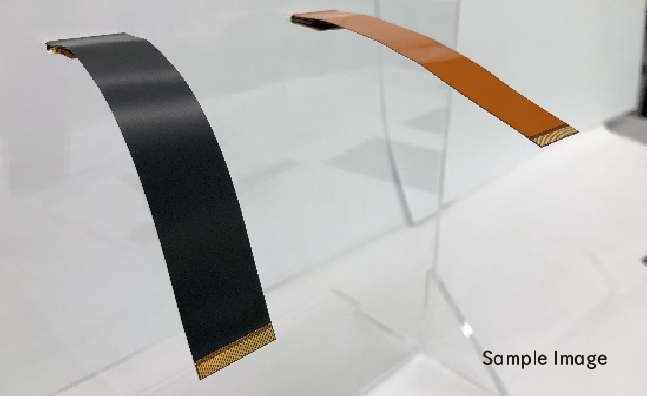 Catalog
FPC with a stripline structure that applies a shield material as a noise countermeasure. Compared to conventional 3-layer FPCs, it is 200 µm thinner and the spring-back force is reduced to about 1/3. The transmission loss is kept the same or lower than before while having the characteristics of such thinness and low spring back. A slim product developed for communication equipment.
Multilayer FPC for high-speed transmission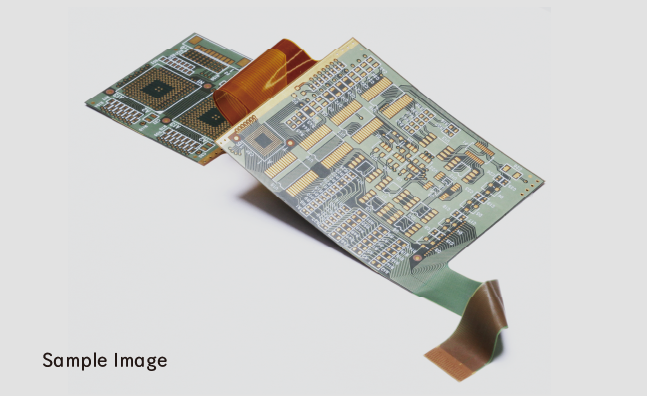 View Catalog
Reflection points are reduced by integrating a FPC with a rigid board. It is suitable for high-frequency applications in the tens of GHz class. Higher density RF line can be made compared to a rigid board, so it is effective for product downsizing. Wire bonding is also possible, and metal or ceramic stiffeners can be attached for heat dissipation.
Separated multi-layer FPC for card edge connector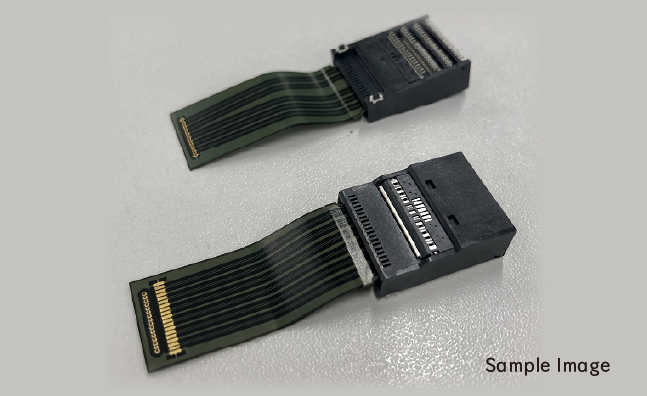 Catalog
Multi-layer FPCs (4 to 6 layers) can be fitted to card edge connectors with both-sided contact points. Since there are no connection points and no current flows through the vias, a stable impedance line can be formed.
In addition, high density wiring can be provided by partial bending processing specific to FPC, 100 μm pitch wiring, and via formation with a land diameter of φ300 μm or less. Not only can package component such as BGA be mounted, but also bare chips can be mounted on FPCs and connected by wire bonding.
MSL with Slitted Ground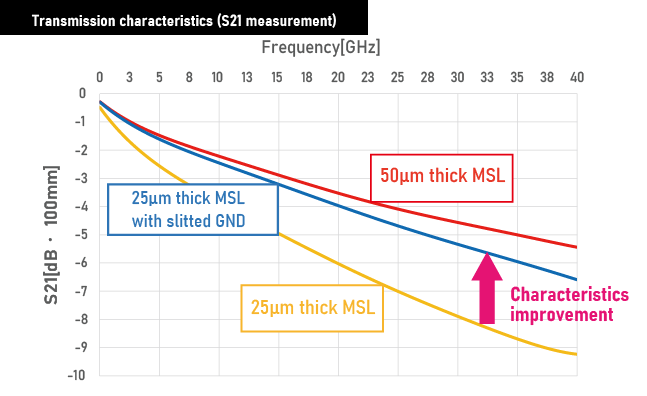 Catalog
FPCs are expected to be thinner while maintaining transmission characteristics by providing slit design in ground (GND) plane.
Today, the car industry is evolving rapidly, with the development of autonomous driving technology, hybrid cars, electric cars, and hydrogen cars — like the "future car" that we saw in our childhood's picture books. The shift of control from mechanical to electronic is expected to lead to further transmission and weight reduction. We provide thin and light FPCs with high temperature resistance, heat dissipation, and oil resistance required for cars that run in harsh environments, and FPCs for high-speed transmission using communication infrastructure technology and for large currents such as Big Elec to contribute the car industry.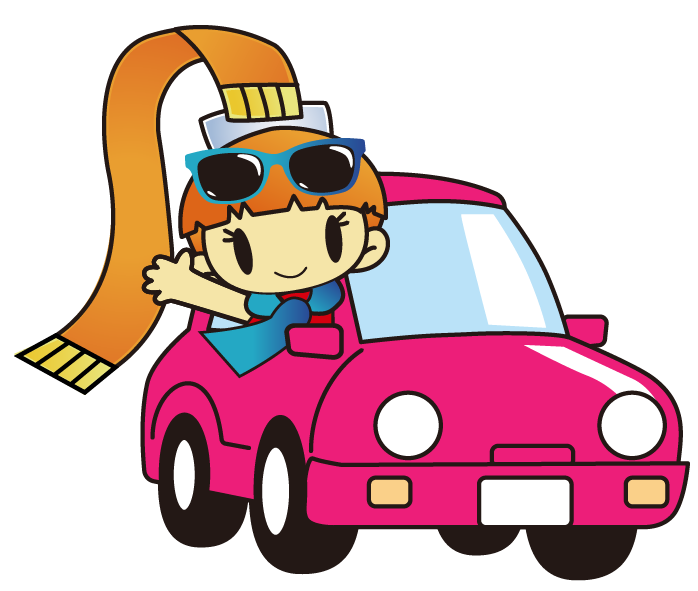 ACF Connection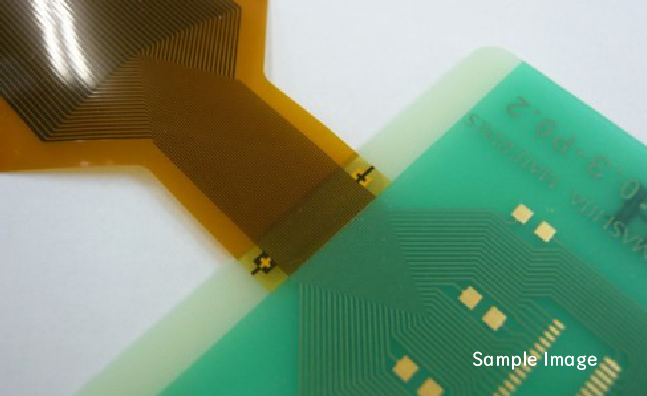 Click on the details to check!
Big Elec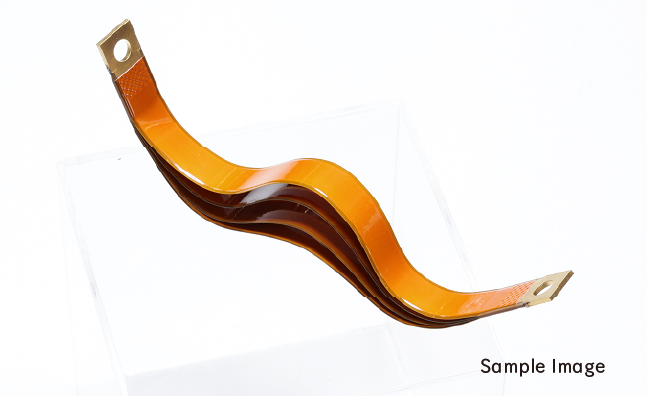 Click on the details to check!
Long-term High-temperature Durability FPC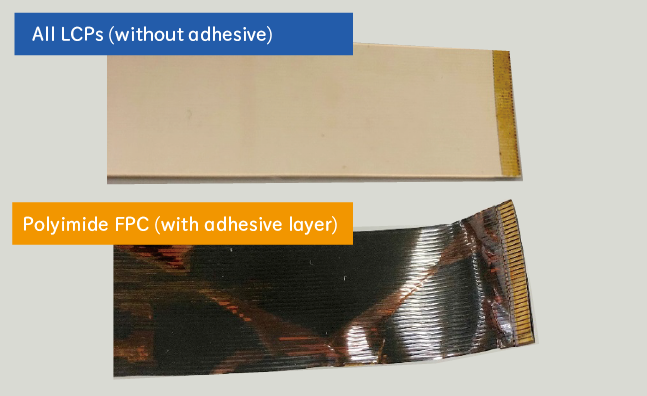 Catalog
Adhesiveless enables long-term heat resistance. It can withstand harsh conditions in high temperature environments. Insulation resistance, conductive resistance change rate, and withstand voltage have passed JIS standard even after our long-term high-temperature test at 200℃ for 100 hours.
High-Heat Resistance・Heat Dissipation FPC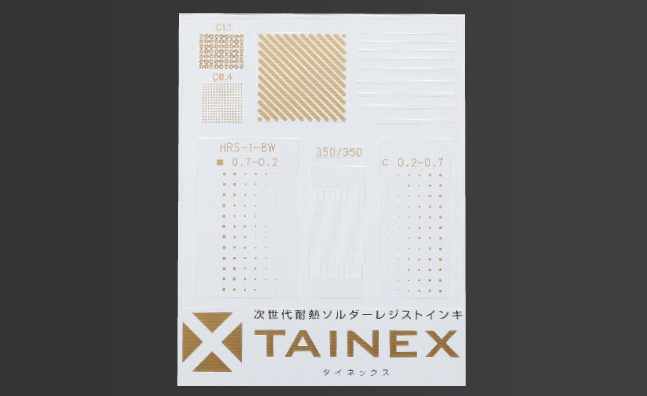 Catalog
The heat resistant solder resist "TAINEX" made by OKITSUMO Inc. is used. TAINEX is adaptable for high temperature of 150℃ and suppresses discoloration during heating. It can also dissipate heat by radiation, and our heat dissipation test shows that the temperature is lowered by 30℃ or more compared to general FPCs with resist specifications by combining with a heat conductive layer. ※Test result on a double-sided board.
High Temperature Durability・Oil Resistant FPC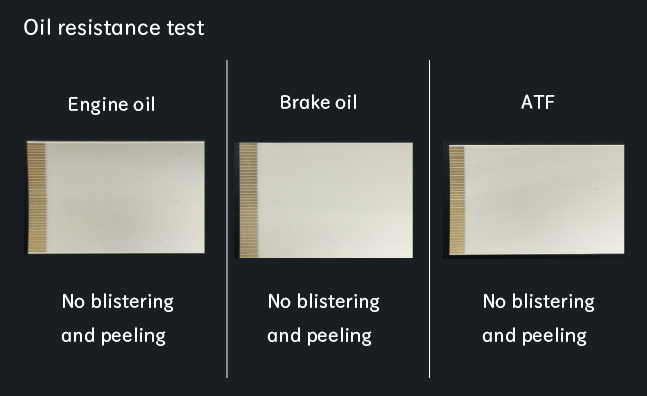 Catalog
The ALL LCP board has excellent long-term heat resistance and has passed the Ambient bend test (MOT180℃) required by UL standard (796F). Compared to polyimide, it has lower dielectric, dielectric loss tangent and water absorption, so it has good high-frequency transmission characteristics.
*¹Test method: After a deterioration test at 230℃ for 240hours, wrap it around a pin gauge with a diameter of 6.275 five times and confirm the condition.
Unlike rigid mounting, FPC mounting requires specific know-how, but we have long been involved in mounting and have mounted electronic components on FPCs of various specifications. We have a long history of FPC mounting and have mounted electronic components on FPCs of various specifications. We deliver the finished product to the customer in the shortest possible time.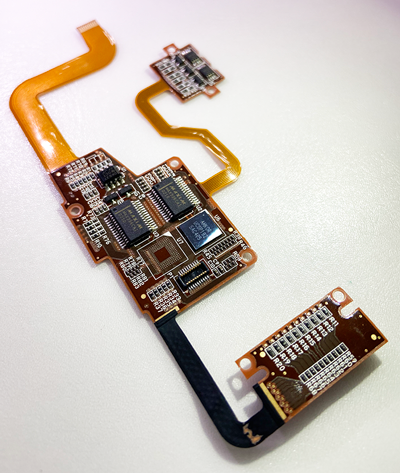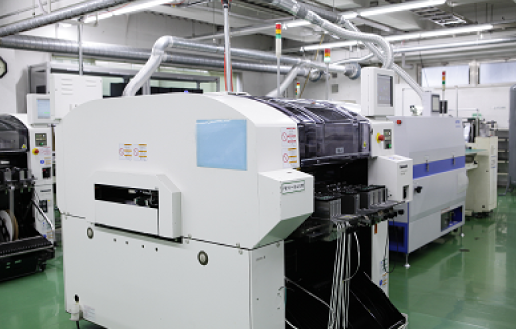 Panasonic:CM101+ANTOM:Compact nitrogen reflow
In this line, the minimum chip size is 0402. Soldering is done by SP60.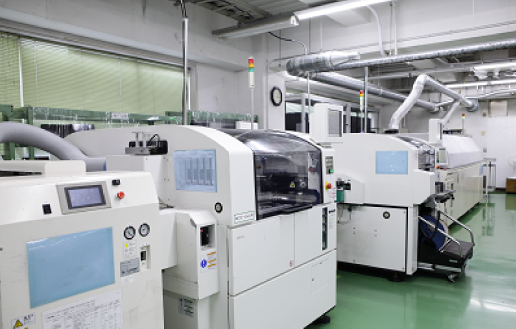 Panasonic:SP60+DT401+弘輝TEC:Atmospheric reflow
In this line, we mainly mount odd-shaped components. Connectors, BGAs, CSPs, etc. are mounted with high precision using DT401.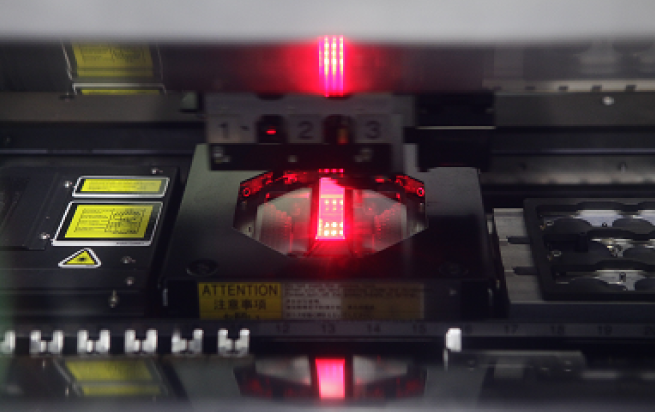 Panasonic Modular mounter DT401
Inspection and post-processing after component mounting
In some cases, FPC mounting requires various post-processing after the electronic components are mounted. These include attaching stiffeners, potting to fix the parts, and external processing to make the parts into individual edges. In addition to microscopic inspection and current-carrying tests, we can also handle all post-processing after mounting according to customer needs.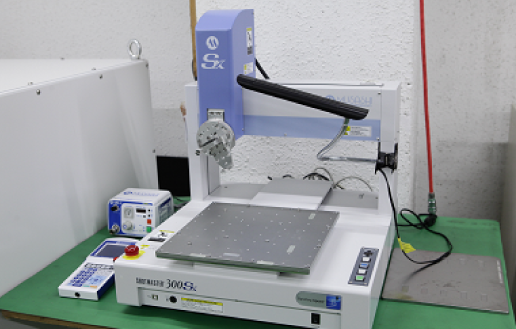 Dispenser Controller + Desktop Robot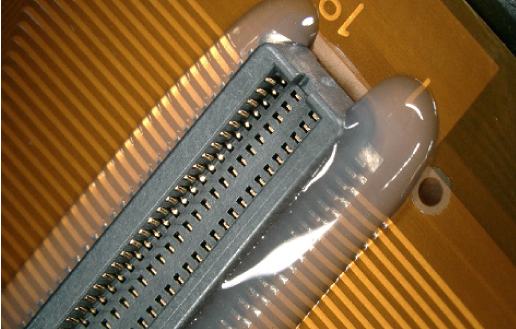 Reinforcement by resin application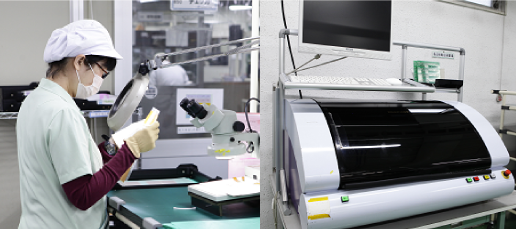 Inspection / sensory inspection (left), visual inspection machine (right)
Narrow-pitch terminals can be connected by using an anisotropic conductive film!

ACF(Anisotropic Conductive Film)

This is a film-type connecting material that can achieve both conduction and insulation at the same time by uniformly dispersing conductive particles in the thermosetting resin. By heating and pressurizing, it is possible to connect many electrodes on a substrate at once. Especially for fine pitch connection, it provides reliable connection at low cost. It is also lighter, thinner, and can be mounted at lower temperatures (around 180°C) than solder or connectors.
ACF is a mounting technology that does not use solder, and is mainly used for FOG (Film On Glass) to connect FPC to LCD. In recent years, this technology has been applied to change the connector connection to ACF mounting, which enables lightweight, ultra-thin, and fine-pitch connections, making it possible to achieve lightweight, compact, and thin packaging for electronic devices. We can handle FOF (Film On Film), FOB (Film On Board), etc. in a clean room environment (Class 10,000) with short delivery times, and FOG (Film on Glass), etc. can be handled at our partner factories.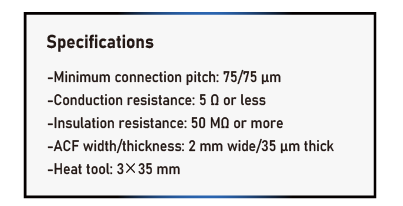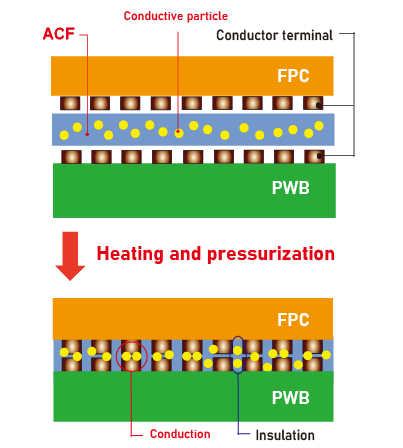 Big Elec is an FPC for high-current wiring intended as a bus bar or harness replacement.



Our Big Elec is a flexible board developed for large current wiring. It has excellent flexibility and bendability, and is suitable for narrow space. Since a polyimide film is used for insulation, it can be used safely.
 ※Patented.
Characteristics of Big Elec
In addition to excellent flexibility and bending resistance, noise suppression effect by reducing inductance can be expected because the magnetic field is negated by the effect of layered wiring. The transmission effect can also be expected to improve through multiple branched current paths.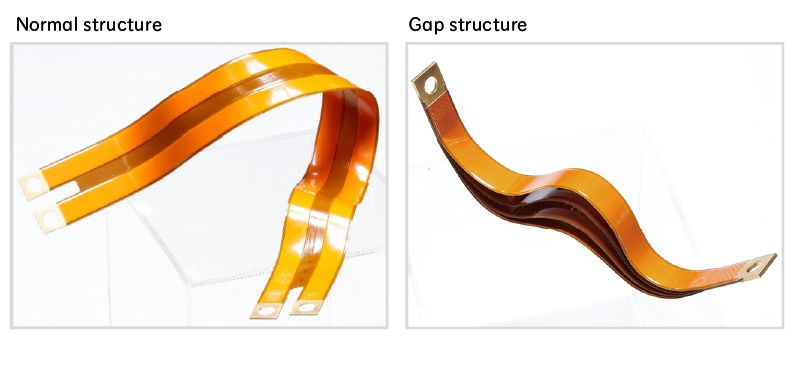 The shape and length of the Big Elec can be freely designed to suit the customer's use. The image below is a sample of our product. Please contact us for more information.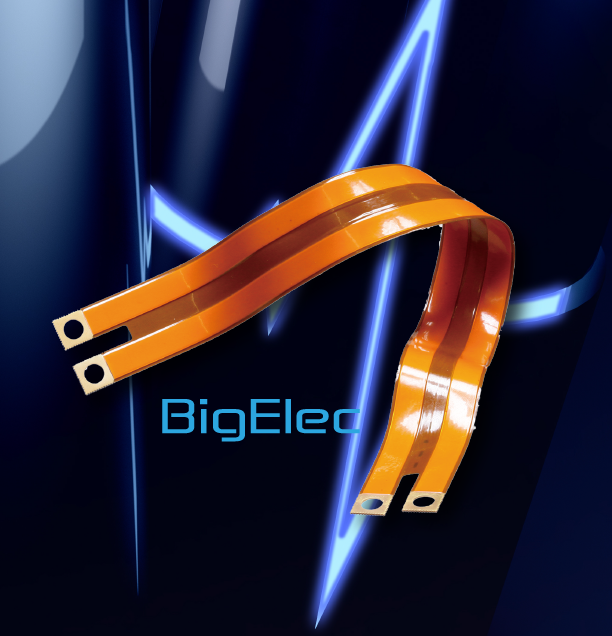 Reliability test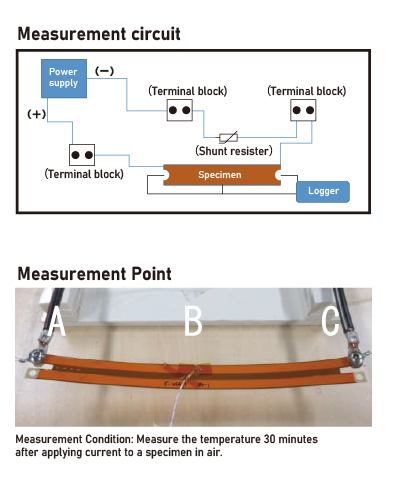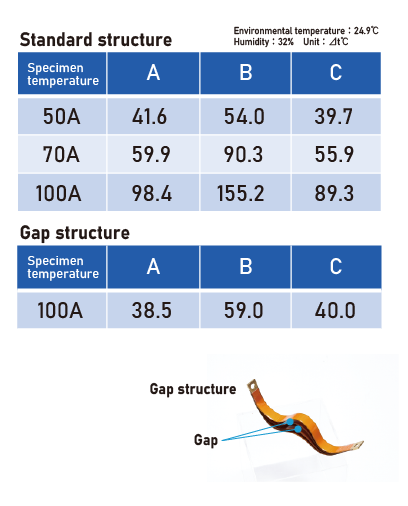 Inductance measurement